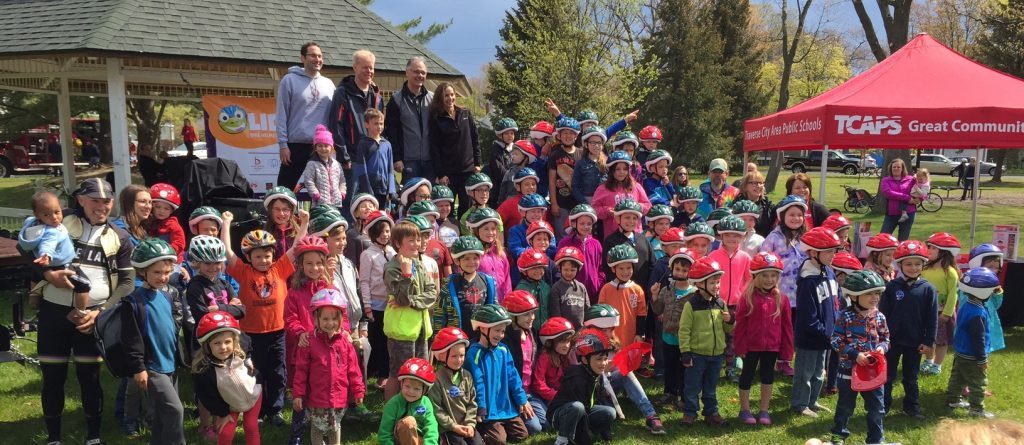 More than 260 children from the Traverse City area received free bike helmets on Saturday, May 13, thanks to several businesses and organizations that are working to prevent head injuries in children.
The Traverse City bike helmet giveaway and bicycle safety event was held from 10 a.m. to noon at F&M Park. The Lids for Kids program emphasizes the importance of bike safety and gives children the most important tool in preventing brain injury while riding a bike: a properly fitted helmet. Trained volunteers were on hand to custom-fit every helmet.

"Head injuries in children can be devastating," said Traverse City event sponsor and organizer Wendy Nienhouse, owner of Agevix. "Fortunately, many bike-related head injuries are 100 percent preventable, and the solution is as simple as a properly fitted bike helmet."
In addition to getting properly fitted with a free bike helmet, many children won a new bicycle from McLain Cycle & Fitness. Kids also cruised a bicycle obstacle course provided by Norte Youth Cycling and learned cycling safety tips, met local police officers and firefighters, learned about police vehicles and toured a fire engine.
Lids for Kids began in Lansing in 2003. This was the second year for the Traverse City event. We'll see you again next year!

---
The Traverse City event is sponsored by the Sinas Dramis Law Firm, Brain Injury Association of Michigan, Agevix Professional Network for Exercise Therapy, Origami Brain Injury Rehabilitation Center and the Michigan Association for Justice.
Local partners include Traverse City Area Public Schools, Norte Youth Cycling, McLain Cycle & Fitness, Grand Traverse Woman Magazine and WTCM NewsTalk Radio 580.
We thank them all for helping to make this important event happen.
---
Event Partners