Despite less than ideal weather conditions, Lids for Kids Lansing was a huge success this year! With ominous skies that never fully cleared, ending in a complete downpour toward the end of the event, the amount of families who still showed up speaks volumes with regard to the importance Lansing-area parents place on safety for their kids.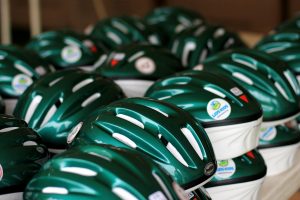 500+ Free Helmets Fitted at Lids for Kids Lansing
This was the sixteenth year Lids for Kids rolled into Lansing and the turnout, despite the weather, was tremendous! More than five-hundred free helmets were fitted and given away to local kids from over one-hundred different schools and daycares in the area. Eighteen bikes, donated by sponsors and other Lansing organizations, were raffled off to excited kids. This is without a doubt one of our favorite parts of the entire day, to see those smiling faces makes this event truly a pleasure.
Other 2018 Event Highlights
Kids lined up across the Marshall Street Fire Station parking lot to have their faces painted by the very talented Sharon Shutes. Another line immediately formed as soon as Lansing Police Department pulled their cruiser up. Families also enjoyed touring a Lansing Fire Department fire engine and meeting firefighters (a special shout-out for being such gracious hosts once again!). Origami ran an awesome decorating booth where kids loved personalizing their new bike helmet. The Lansing Masons were also present to help parents create ID kits for their kids in case of emergencies. To top it all off, Lansing Lugnuts' Big Lug made an appearance, as well the MSU's very own Sparty!
The day could not have been possible without its incredible co-sponsors – Sinas Dramis Law Firm, Brain Injury Association of Michigan, Origami Brain Injury Rehabilitation Center, and Michigan Association for Justice. The event's media sponsors – WLAJ, WLNS, and Q106 – helped build the excitement and we're so grateful for your involvement.
Onward to planning for 2019, which we're sure will be even better!